Event – Tequila Fortaleza's Guillermo Erickson Sauza
I/We couldn't be more excited to announce that Hot Tamale will have Guillermo Ericsson Sauza of Tequila Fortazela at Hot Tamale on Wednesday 6th April between 6-7.30pm.  I can't stress it enough, Guillermo is one of the worlds best distillers and absolutely has one of the best tequila's on the market.  I personally am so honoured to have him come to Hot Tamale.
Guillermo's great-great-grandfather, Don Cenobio, founded his first distillery – La Perseverancia – in 1873, in the town of Tequila, Jalisco.
Not only was Don Cenobio The first person to export "mezcal de tequila" to the United States, shorten the name to just Tequila, and implement the use of steam to cook the agave (instead of an earthen pit), Cenobio also stated that the Blue Agave was the best agave to use for production.
His son, Eladio, took over the family business in 1909 when Don Cenobio had passed away. During his time, Don Eladio brought the nectar of the gods to the world, under various names such as Mexican brandy, Mexican whiskey, tequila, and as an aperitif. During the Mexican Revolution, Eladio helped to establish tequila as the national drink of Mexico. He also founded the distillery, La Constancia.
Don Eladio died in 1946, and left the family business to his son, Francisco Javier who brought about more changes to the industry and made our family's tequila the most well-known brand in the world. The single most important thing that Don Javier did for the industry was to help establish the Denomination of Origin for Tequila.
While on a business trip to Japan in the late 1960's, Don Javier came across a bottle of Japanese Tequila. Angered by this, he stated that tequila can only be made in Mexico, specifically, in the area around Tequila. A group of tequila producers, led by Don Javier, filed an application for an appellation of origin in 1973, but it wasn't
until 1996 when the world officially recognized the Denomination of Origin for Tequila.
Don Javier bought a piece of land in the town of Tequila so he could build a hacienda on the highest point of town, overlooking his rival's distillery. On this land sat a small distillery, which Don Javier named La Fortaleza.
With a small brick oven, a tahona pit, a few wood fermentation vats, and 2 small copper pot stills, our family produced tequila here until 1968. Because the distillery was not "efficient enough", and did not produce much tequila, we shut her down and converted her into a museum to show how tequila was made in the "old days".
Don Javier sold the family business in 1976, but the family kept the land with their hacienda and distillery. In 1999, Don Javier's grandson, Guillermo, began the process of getting the old distillery up and running again.
The son of Doña Sylvia, Guillermo grew up thinking that he was going to fly around the world in a jet plane with a mariachi band, promoting our family's tequila.
Heartbroken when his grandfather sold the company, Guillermo still had a love and passion for Tequila – the spirit and the town.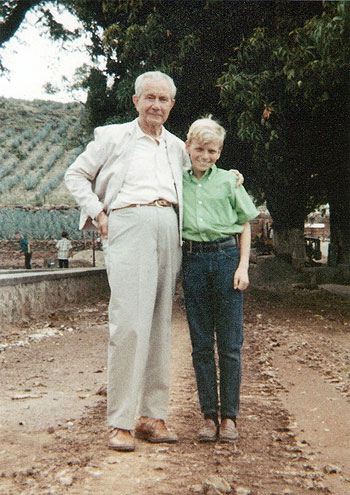 After several years of renovations and hard work, Don Guillermo got Destileria La Fortaleza up and running again, making tequila in the same way it was made over 100 years ago – with a small brick oven to cook the agave, a tahona to squeeze the juices out of the agave, wood tanks for fermentation, and the 2 original copper pots for distillation.
Our goal is to make the best tequila that we can, and to this day, we have not changed a single thing.
While Guillermo's family had always pushed the tequila industry forward, we are looking back. Using traditional and artisanal methods, our goal is to make the best tequila we can. By doing so we honor our great-great grandfather, great grandfather, and grandfather.
Viva Los Abuelos!! Viva Fortaleza!!
I hope you take the time to come down and say hello to someone who is absolutely an industry legend who makes a wonderful artisan tequila, the same way it was made 100 years ago.
David Robinson
#tequila, #hottamaledarwin, #tequilafortaleza